The bending and overbending technique has greatly changed over the last years. Knowledge has grewn, and, thanks to Sebastien Charlier, we now know that we only need 4 tongue positions to get all the bendings and overbendings available on the instrument.
And moreover, we also know that, using the appropriate technique , bended notes can sound good enough to play melodies that sound great. This is a major breakthrough in the way we deem the instrument.
To depict this change, and to encourage diatonic harmonica players to be creative, we decided to start a friendly challenge : the Marche d'Aincourt challenge.
Jérôme Peyrelvade (http://www.jeromepeyrelevade.com ) has composed the Marche d'Aincourt, a piece that you can find in the Valentine Goby's audio book « Un paquebot dans les arbres ».
We think this piece offers a pretty good way to see what we can do to play melodic using bendings. The piece is in F# minor and features lots of F#, G#, A,C#, F (E#) in the lower range, that you can get using bendings on a C harmonica.
Jérôme kindly agreed to embark on the challenge, and provided the first part of the score (the score is written for a lydian tuning, but it doesn't really matters since the 5 draw is not played).
You can listen to the theme here :
https://soundcloud.com/laurent-vigouroux/marche-daincourt-harmo-seul
Click here to listen to the theme in context from the Valentine Goby's audiobook "Le paquebot dans les arbres":
https://soundcloud.com/laurent-vigouroux/marche-daincourt-fille-de-tubar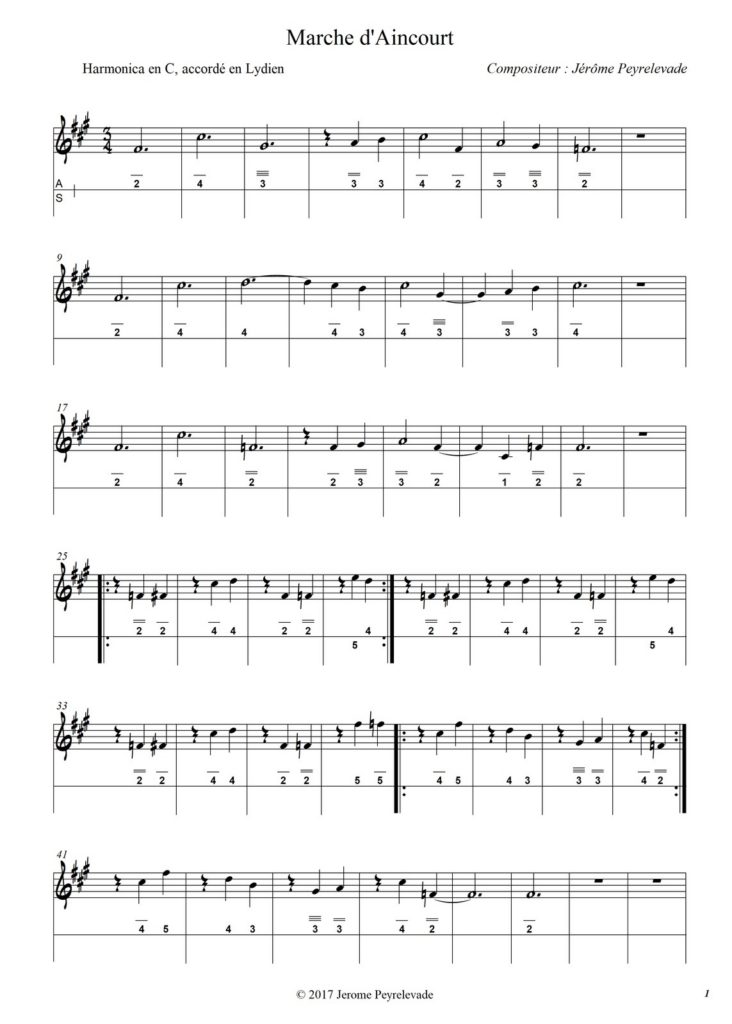 The challenge rules :
Play the 24 first bars of the piece on a C Richter or Lydian diatonic harp.
No tone effect outside of some reverb or compression effects.
Tempo at your convenience, but close enough to the original one.
Updload you file (sound or video), using the widget below, before the 15th of December 2018 or give us the link to your sound through in a message to our facebook (https://www.facebook.com/planetharmonicaeng/)
Write a message to our facebook account (https://www.facebook.com/planetharmonicaeng/) to give your name, email and the name of the file you've uploaded or send an email at laurent.vigouroux at gmail.com (replace " at " by "@")
After the deadline, our grand jury will assess each recording through the following set of criteria :
Pitch
Timbre
Attack and note sustainability
Expression
Overall assessment
The prizes :
1rst prize : a Brodur diatonic harmonica, setup by Jérôme. Big thanks to Raymond Brodur to have offered the harp!
2nd prize : the textbook « Réglages de l'harmonica diatonique » (how to set up a diatonic harmonica), by Jérôme, derived from the brand new series «Les cahiers de l'harmonica », driven by Sébastien Charlier.
3rd prize: The album+partition pack of Somewhere on the Edge of Time, by Jérôme Peyrelevade
3rd prize : a NextGen or a "3 ' ' '=3°" or "4'=6°"  T-shirt
We are waiting for your submissions !!!
Should you have any question, please feel free to contact us through our Facebook.
Laurent Vigouroux