iRealPro : a toolkit for improvisation learning.
Software industry clealy brought tools that make music learnig easier.
In the old days, jazzmen who wanted to work scales whith a backing track had to use the well-known Aebersold books + CDs or even audio cassettes. Each book covers one theme and comes with the associated backing track. For example, there is a book on II-V-I showing different ways to work scales on this pattern and providing backing track on CD, in every key.
That was very useful, but the backing tracks chord grids were sometimes confusing. And, of course, the apprentice had to adapt to the grids, style and tempo chosen by Aebersold.
Nowadays, numerous apps allow us to work our scales in a very easier way.
iRealPro app is available on every platform (iPhone, iPad, Android, and also Mac and PC) and allows you to write your own grid and to play it using a (limited) choice of styles.
Thanks to the embedded forum, you have an easy access to a lot of jazz, pop and rock standards. Bare in mind that you will only have access to chord grids, not to melodies (probably protected by copyright).
On top of the backing track, iRealPro also displays on your screen the on-going chord and the scales you can use to improvise on it. Generally, it provides several scales (for example X dorian and X bebop minor on a Xm6 chord).
Of course, you can adjust the tempo and repeat the grid as much as you want. The software also allows you to mix the volume of each of the backing instruments.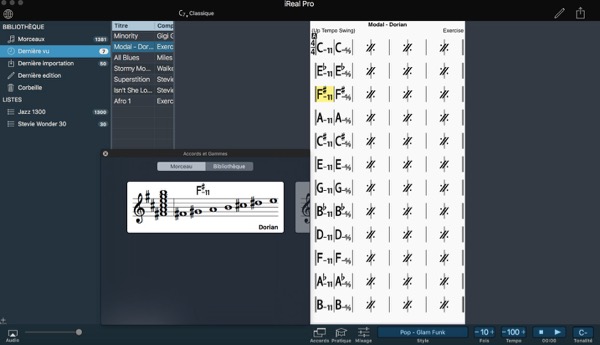 Styles are just midi file based (far below the RealTracks you can find on Band In A Box), but they still work very well for a homework session.
Similarly, unlike BiaB, iRealPro doesn't show a "soloist" feature (improvisation example broadcasted by the system). This function could be interesting in order to work on the basis of an example.
It is true that iRealPro is really cheaper than Band In A Box.
In short, iRealPro is a very effective tool to work on scales and improvisations. But if you want to produce backing tracks for you to record your own improvisation and if you want to get a good sound rendering, then you should go for Band In A Box.
Laurent Vigouroux