Kintsugi by Yvan Knorst and Sébastien Charlier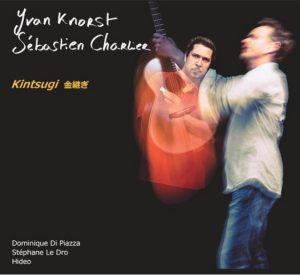 Listening to Sebastien Charlier's recordings always drives us into a very creative, virtuoso and melodic universe. His previous CD (« Precious Time 2) was a fusion music album, featuring various sound textures and a very dynamic and often hightly swift harmonica playing.
The latest one, a collaboration with Yvan Knorst, « Kintsugi », goes into a different direction.
Although this record is actually based on a very traditional « guitar + harmonica » concept (with Yvan Knorst on the guitar), it shows a variety of creative musical approaches.
The band uses different colors, moving from blues to japanese, breton or arabic sounds (I've always found a surprising similarity between breton and arabic musics). It is so tasteful when Sebastien plays « out » (we would have liked even more of it), Yvan Knorst guitar playing is smooth and rich (please notice the lovely use of harmonics on « Aki No Iro »), and shows an amazing sense of the beat.
As usual, Sebastien's playing is awesome, putting together complex choruses with an incredible efficiency and a superb sound.
The album also features a very nice cover of the beautiful song « Pluie D'Hiver » (composed by Sebatien), previoulsy released on the record « Echec Et Malt », by The Blues And Beyond Quartet.
Special guests also join the band on some pieces : Dominique Di Piazza (Sebastien's mate in the Blues And Beyond Quartet) on the electric bass, Stephane Le Dro on the bass clarinet (very nice job on the unisons and the chorus on « Ouverte »), Hideo on the shakuachi (a japanese flute).
The Kintsugi is ancient technique, discovered back in the 15th century, this is actually the japanese art of repairing broken ceramics with gold alloy, instead of hiding the cracks. A very nice allegory for music in general and for this album in particular, that deserves many listenings before getting the very substance out of it.
Laurent Vigouroux
« Diatonic Revelation », an album by Sébastien Charlier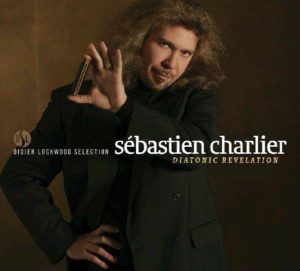 This is not a brand new album I am going to talk about, but actually Sebastien Charlier's very first record, released in 2005. As you may know, Howard Levy's « Harmonica Jazz », first released in 1987, has been recently reissued, and I think this is a very good opportunity to get back to « Diatonic Revelation », which I think is actually a second but major pivot album for our beloved instrument.
Indeed, listening to the Howard Levy's album reminds me the criticisms made about it at the time : on the one hand, Levy is the first player to show that diatonic harmonica can address complex jazz, but, on the other hand, the execution is perfectible. General rhythmics, tone and sound of overnotes do have some weaknesses, which fueled the idea that the diatonic could not really be a fully chromatic instrument. Of course, we've got to keep in mind that our knowledge was also weak at the time about how to get overnotes, how to set up the harmonica…Thus, this album is a real tour de force, an important milestone for our instrument. But it doesn't really demonstrate that the diatonic harmonica is actually able to be played as any other instrument in such context.
This is the very difference with Sebastien's album, which has not aged at all and still shows fluidity and a quality of sound and rhythm that had never been achieved so far.
For the very first time (to the best of my knowledge), a harmonica player actually achieved a very sharp album in terms of harmony and rhythm, and, on top of that, perfectly executed. As he told us in our interview last year, this record was actually the outcome of a long lasting work, with the influence and interactions with major musicians like Didier Lockwood, André Charlier and Benoît Sourisse.
Since then, Sebastien has become the high-flying musician we all know, with his albums « Precious Time » (1&2) and « Blues & Beyond », mastering phrasing, tone and time and providing a wide range of new ideas ; but everything was already there in 2005.
Whether one likes his albums or not (it's a matter of taste), it must be acknowledged he really managed to drive the diatonic harmonica into the world of chromatic instruments like saxophone, flute, trumpet etc.
Guy Belanger : Traces & Scars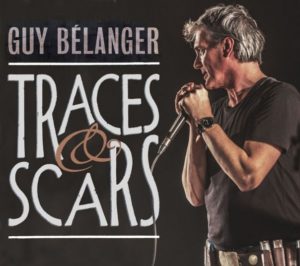 After many years playing along with various artists (Celine Dion, Les Colocs, France d'Amour, Le Cirque du Soleil, etc.), and numerous nominations for his previous albums, Guy Belanger is back, and take us on a new touching and authentic musical journey.
His album « Traces & Scars » drives us on the footsteps of his past. Sharing his nice encounters, he also reveals the scars of his life. From the very beginning of the album, he pays tribute to his friend and brother in blues, Bob Walsh, who passed away in 2016. The loss of such a genuine complicity obviously leaves a painful scar. And musicians often cure through music and creation. In this first piece, we see the man quietly recovering, trying to build something beautiful out of a still raw and hurting material.
Then, light comes and goes through the tracks, like sunny breaks in a cloudy day. Along with his excellent musicians, Guy Belanger shared the musical encounters that have touched him. Preston Reed's guitar, Eric Longworth's cello and Luce Dufault's voice shine on this album. His remarkable lead harp player tone and his ability to showcase the work of his musicians is one of a kind.
Guy Belanger never lost his own musical signature, although he went to explore many musical styles over the years. It is highly distinctive, from the very first note ! The more I listen to this album, the less I can actually label his style. What he gets from his harmonica is neither blues nor country or pop, it's like a selection of what Guy managed to get out of these styles and decided to share with us. In short, Guy does only what he likes and he does it very well ! With Traces & Scars, Guy Belanger won the Harmonica Player Of The Year Award at the Maple Blues Awards Toronto 2018.
Benjamin Carpentier
Myriagon -EP
Harmoniciste Cedric Deschamps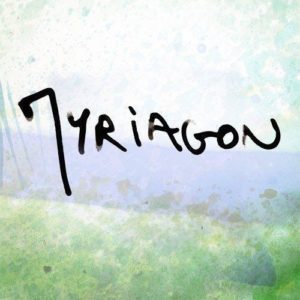 Myriagon, a young french band, has just released a 5 track EP of their own compositions. I can tell you it's really grooving ! The rhythm section plays like hell and knows ho to deal with sound and groove variations. The singer's voice and phrasing are great and, last but not least, Cedric Deschamps' harmonica playing is very interesting. His good taste phrasing and sound are inventive. A very nice example of harmonica along with a band playing fusion/rock/soul songs.
Check out their facebook page (https://www.facebook.com/MyriagonMusic/), I hope this is the beginning of a great career !
Laurent Vigouroux
Nico Wayne Toussaint plays James Cotton
Smells like Chicago spirit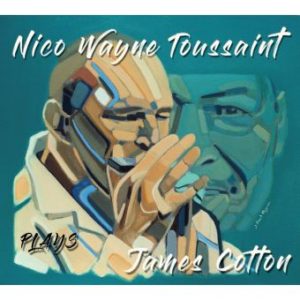 With his new album, Nico Wayne Toussaint pays tribute to the late James Cotton, legendary harp player in the Muddy Waters' Band, also a prolific solo author.
A tribute, for sure, but neither a pastiche nor a copy-and-paste work, allowing the french Pau based harp player to revisit this typically Chicago blues repertoire.
Always warm and expressive in all styles, often « crunchy », NWT's harp is especially effective in this repertoire, on quite slow groovy blues (« Born In Missouri ») and on fast and furious pieces (The rockab » sounding « Rocket 88 », or « Midnight Creeper », the frenzied instrumental tune ending the album).
Fronting a band of excellent musiciens sometimes playing relevant top brass parts (« Today I Started Loving You Again »), NWT walks us nicely through a series of various styles, from tonic tunes to bluesy ballades, and even a effective dark piece (« Down At Your Buryin' ». Dark, for sure, we're talking about a burying, not about a roller coaster ride, right?).
Nico's voice particularly suits the tunes, neither too light nor too typically blues sounding (you know, this kind of odd alcoholic cold ashtray voice), and the live recorded tracks give a great overview of how a live performance could sound like to those who never had the chance to see NWT performing on stage.
The title of the CD is « Nico Wayne Toussaint Plays James Cotton », it's playing non stop on my device, and soon on yours !
François Morcrette
Robert Legault – Le Mouton Noir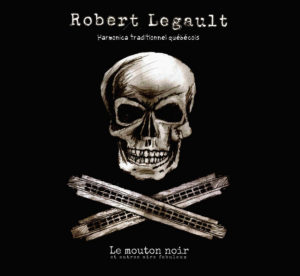 So you want to discover a genuine Quebec tradition ?
The harp player Robert Legault has developed a one-of-a-kind approach to his instrument. Since the days of his youth, he had been recognized for his excellent traditional harmonica technique. Just like the black sheep (« Le Mouton Noir »), leaving the flock to see the world, he vanished from the musical scene for a while, and went back in 2017 to record new compositions and some Quebec traditional tunes.
Those who don't know him will be surprised by the album jacket. Robert is a real paradox. A lover of dancing traditional music, he's also a hardcore music enthusiast ! In that respect, the title and cover of the album highlight his way to split the traditional music clichés and incorporate some elements from the hardcore culture into it.
The second surprising thing is that Robert Legault loves the large possibilities offered by tremolo and octave harps (the one that he calls « the Double »), he's a virtuoso, especially skilled at using the tongue playing specific to the Quebec style. By the way, this is another thing which makes him a Black Sheep, since nowadays modern harmonica players tend to keep away from these kinds of harmonicas. On the album, he also plays the diatonic harp (which he calls « mouth little music ») and the chromatic on two Breton tunes.
The other musicians on the album are also great Quebec traditions promoters. They provide their own personal feelings. You can hear guitar, violin, harmonicas and also foot percussion, which are very important elements of the quebecois music. Musical arrangements are outstanding, and you can feel the energy out of the tracks from the very first listening ! In short, an album made for those who want to travel without having the chance to actually visit the country, and who want to see something else than maple syrup !
Benjamin Carpentier
Yvonnick Prene – Breathe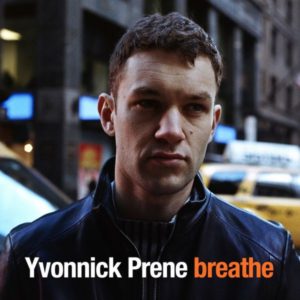 Yvonnick is a french chromatic harmonica player, now based in the USA, working within the spirit of Toots Thielemans' legacy. Breathe is his 4th album, after Jour De Fête, Wonderful World and Merci Toots. Yvonnick has also released harmonica jazz instruction books (Jazz Etude and 100 Jazz Patterns For Chromatic Harmonica) and has just launched an online course (https://harmonicastudio.yvonnickprene.com).
The album is of course full of chromatic harp playing. Yvonnick's sound is very good and fluent (not easy on the chrom!).  The musicians are excellent and the whole record production is really good.
At the end of the day, a good jazz album and another great opportunity to make chromatic harmonica grow in the jazz world.
Laurent Vigouroux
Crooked Philosophy by Bill Barrett and Marcus Watkins.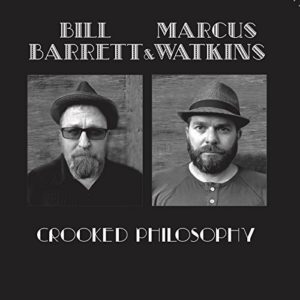 I always had this cultural exceptionalism thing that Gypsy Jazz didn't sound as good played by Americans. And then I heard John Jorgensen. And then I heard this record. Not only does it swing like nobody's business, it's got the grit and imperfections that make Manouche the seat of the pants music that I love. A truly magnificent record, graced with the best singing Bill's ever done (that I heard of). Truly worth your while. 
Ben Felten
Olivier Ker Ourio feat. Sylvain Luc – French Songs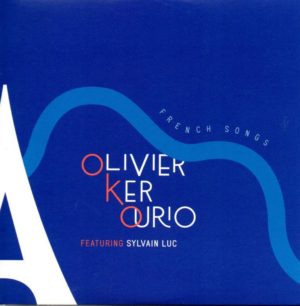 I used to make a clear difference between Olivier Ker Ourio's Island records (Oté l'Ancêtre!, Sominnkér, Overseas, L'Orkes Peï) which I love to bits and the rest which I like but doesn't really blow me away. In many ways (and somewhat surprisingly considering the material here) with French Songs it feels like Olivier has finally blended the two shcizophrenic musicians in himself. French Songs is a collection of covers of (mostly) famous songs from the Chanson Française repertoire and yet it feels Island-y as all hell. Cuban drummer Lukmil Perez contributes a lot to that tropical feel, and Olivier and Sylvain's fantastically melodic playing brings up a gorgeous edifice on top of these syncopated foundations. In one word, superb!
Ben Felten
Gadji-Gadjo: Regards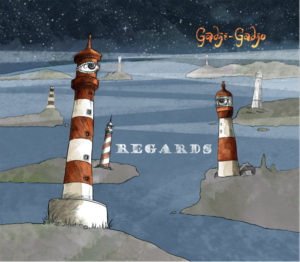 The very first sensation that comes to mind when listening to this album is a melancholic and joyful energizing feeling, driven by a kind of Balkan brass band (accordion, violin, harmonica, guitar, percussion, double bass, tuba, trombone). But the profuse style of this virtuosos' band is way wider than this first feeling. Numerous musical atmospheres take turn, sometimes within the same track : sometimes it sounds like Têtes Raides, sometimes like klezmer then gipsy, and even occasionally jazz when an upright bass line breaks the rhythmics.
Benjamin Tremblay's harmonica perfectly fuses in the music. Alternating back and lead playing or in unison with the violin. He's always relevant and often twirling.
Let's go and get this album right away !
Laurent Vigouroux
***
The Marshals: Les Courriers Sessions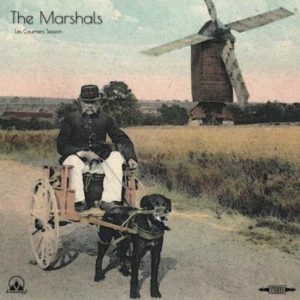 Urban outlaws, desperados of the prairie, cow-boys from Arizona or Montana gold panners, go back home right away to cook you chili, and unplug your ears : the Marshals are back in town, with their new album : Les Courriers Session.
The Marshals ? A rock trio, that released their previous opus some years ago, AYMF Session, sounding like a mix of Hendrix/Zeppelin/Vaughan/Buckley, and featuring Laurent Siguret on harmonica.
We find all the well-known ingredients of this Auvergne band in this album : Rock, Blues, Folk, a captivating voice, saturated guitar and harmonica, which fills the music without submerging it, and a very effective drum behind to nail the whole stuff. Job done ! Many various influences for a very personal music, indeed.
Playing in a trio requires a subtile balance in order to leave enough room for the soloist without interfering with the consistency of the pieces. Laurent Siguret actually found the right balance, and his tasty phrasing mixes both modern and ultra roots licks in a very effective way.
When it comes to compositions, the writing is ethereal, maybe more than it used to be on the previous album. The band goes back to the origins : a few chords, some significant gimmicks, simple and captivating melodies, a saturated but balanced sound, a pure, expressive and melancholic energizing rock.
Everything goes slowly in a rough space, the storm is over but it is still thundering. Come on, let's drink some rough doctored whisky, and shepherd the cows back to the paddock before going home to cook red beans for dinner. The Marshals are back, and that's great.
Check this out, and go see the Marshals playing live  !
Jérôme Peyrelevade
***
David Herzhaft: Pacific Lounge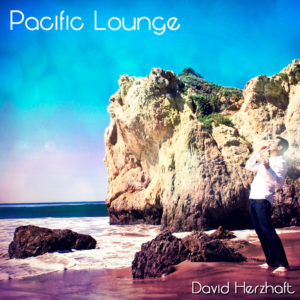 David Herzaft is one of the first harmonica players who made the diatonic boundaries take a move forward. He has been promoting the chromatic playing on diatonic harp for more than 20 years, through his albums, courses and textbooks. His previous album, « Jazzin' Around », as its name suggests, was a jazzy one, featuring covers of several standards, including a very original and nice Summertime.
Pacific Lounge is now approaching an electro…lounge sound.
This album features twelve original and varied nice compositions.
The diatonic harp acoustic sound merges very well with the electronic rhythmics.
We will remember the creative solos more than the melodies.
This interesting album features diatonic harmonica in an unusual register.
***
Raphaël Herlem Quintet – Kaïros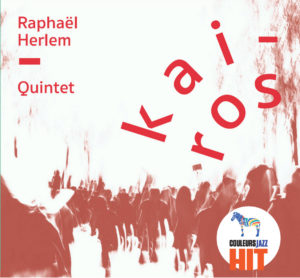 A couple of years ago, I saw Tao Ravao and Vincent Bucher live in concert in Paris. During the second set, Vincent let the mic to harmonica player Thomas Laurent. With his very different style, Thomas really pleased a friend of mine who was attending the gig with me. The day after, right away, the guy grabbed a Raphaël Harlem Quintet CD featuring Thomas on harp : a very good and promising jazz funk.
So, as soon as Kaïros (the last album of the Quintet) was released, I bought it through Bandcamp for a few euros. Great deal ! Kaïros is far more achieved and mature than their first eponymous EP.  In particular, the rhythm section is really a blast, and bass player Carel Cleril sometimes plays phrases that could be Jaco's.
Raphaël Herlem's compositions are absolutely modern, surrounded by a mostly wild groove (with the exception of « Alice », a quiet ballad). Pieces are long enough to leave room for improvisation, without getting tiring. One may argue this record is not musically original, but I think the composer's ambition was not to start a music revolution with his true first album, only to show an honest and effective work.
The mix sax/chromatic harp which is at the heart of this project works very well. The tone of these two instruments sounds really good. This is particularly true when Herlem leaves his alto sax to play his baritone (notably on « Catalyst ») and deals really well with both tone and key differences.
I remember Thomas used to be a promising harmonica player, mostly playing gipsy style. He is now very comfortable playing a post bop funk, with long wild phrases, challenging harmony very easily. This is pleasing to hear, and, in the end, not that usual when it comes to harmonica.
To make it short, Kaïros is a very good jazz album, that you shouldn't listen to only because it features a harmonica player but also because it's excellent stuff, smart and stimulating music including frequent phrases of a fat and loud baritone.
Benoit Felten
***
Sébastien Charlier: Precious Time 2.0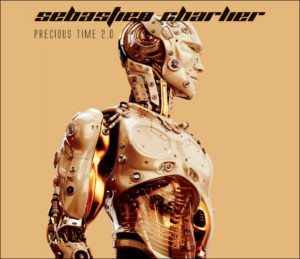 Warning signs told us how blasting this album would be. First of all, the previous one, of course. With Precious Time 1, Sebastien Charlier reshuffled the cards by demonstrating the total chromaticity of his diatonic harmonica and, above all, by releasing a jazz fusion album featuring ear-catching tracks and outstanding musicality.
I also remember Master Sebastien Charlier smirking and smiling when he talked about this new album at the Diato Jazz seminar in Grasse.
Knowing how demanding is Sebastien when it comes to harmonica, no doubt Precious Time 2.0 was about to be a major album.
So…yahoo !!
This is musically fantastic and technically incredible. These ear-catching tracks show a perfect mix of groove, harmonic complexity, unexpected instrumental flights and melodies that you can even whistle.
It is difficult to highlight a specific piece, however, I have to say "Hijacked" is a very nice and clever reinterpretation of "Spain". And we all remember "Spain" was actually the piece Sebastien highlighted about twenty years ago to demonstrate that any jazz theme could be played on a diatonic harmonica. So the circle is now complete and we can say diatonic harp has become a true jazz avant-garde instrument.
To quote Jérôme Peyrelevade (whose Sebastien made a cover on track 17), there is a 'before' and 'after' Sebastien Charlier, and a before and after Precious Time.
Laurent Vigouroux
***
Jérôme Peyrelevade : Somewhere On The Edge Of Time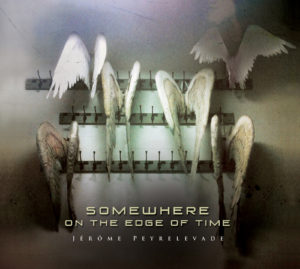 First of all, I have to point out I'm actually talking about THE Jérôme, who writes for Planet Harmonica, teaching section. I wavered before writing this review since Jérôme is a major contributor to the magazine. I finally did it, for two main reasons :
– I had made my personal opinion about this album way before we started to work together (you can find what I wrote about it on the diato forum website for instance).
– I think this album is a major one in the harmonica world and therefore it is absolutely relevant to review it in PH.
That being said, let's move to the key thing. The music !
From the very first listening, we clearly ear this is a rich, very rich album from a musical standpoint. Jérôme is a virtuoso, whose playing is both sophisticated and extremely melodic. The ear-catching melodies are so perfect that they get into your brain right away. I have even heard my 12 year-old son (who, by the way, is not a musician) humming some tunes !
Some solos, rhythmics and harmonic patterns are very original and quite demanding. One may need several listenings before feeling comfortable. Many tasty "out playing", rubbing just as needed. Extremely elaborated rhythmics may seem a bit disconcerting sometimes.
Although this is a first album, I have to say Somewhere On The Edge Of Time (what a perfect title !) is a totally achieved album. Each track has its own unique atmosphere, but the whole keeps still very consistent. Jérôme also owes this brilliant result to his musicians, all jazz big names. In an interview I published in the very first issue of Planet Harmonica (…back in 1998 !), Jean-Jacques Milteau said that the surrounding area of the harmonica was very important to him, so he paid a specific attention to the quality of the musicians he hired. Jérôme clearly followed this example by leaving enough room to his musicians.
Hats off to Rémi Toulon for his intro on Someday Is A Lonely Day, a very nice melody with a very touching finale. Even if Jérôme and Sébastien Charlier are clearly on the same page when it comes to harmonic/rhythmics features and the out-of-the-box diatonic harp thinking and playing, Jérôme leads his own way and always takes us on a very personal journey.
Jérôme mostly plays "clear", but he also tries out different sounds, like in Nabish Moy, an original pastiche of the more than famous Manish Boy riff, that sounds like a totally modern blues-jazz-rock track.
So, to make it short : this album is a true jewel for those who want to open up their mind to melodic and sophisticated instrumental pieces.
It's worth mentioning a compilation of all tracks harmonica tabs is available (for both melodies and solos).
Laurent Vigouroux