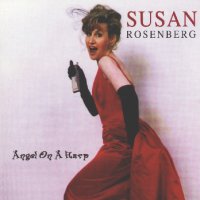 Susan Rosenberg - Angel on a harp
To find a player who is really serious about the chromatic harmonica is becoming an increasing rarity. To find one who takes it seriously enough to pursue academic studies in their pursuit of excellence is even rarer. But to find one who fulfils these criteria and is also female is practically unheard of! Yet in Bridgeport, Connecticut I had had the good fortune of meeting with Susan Rosenberg who has demonstrated what dedication and a lifelong passion for her chosen instrument can achieve.

Susan began playing at age 7 on a Marine Band diatonic that her dad gave her. " I just drove the family crazy till I could eek out the first melody. And I played 'Oh! Susanna', once I got that down I knew that was my instrument." She later discovered the chromatic, and although wanting to eventually pursue further study on the instrument there were no conservatories or universities offering the harmonica as a major. So, while pursuing her academic studies, she continued to hone her skills by playing on the Boston jazz club scene.

The next step in Susan's quest came some years later quite by accident. 'I was in New York shopping with my son in Barnes and Noble and I heard this music coming over their p.a. system I guess, and I recognized it to be harmonica. And what attracted me to this music was the selection, it was classical.' It turned out to be a recording of harmonica virtuoso Robert Bonfiglio playing the music of Villa-Lobos. As fate would have it, Susan lived close enough to Manhattan to be able to commence studies with Bonfiglio at the Turtle Bay Music School. "And that led to 7 very intense years. After the first couple of years he stopped teaching at the Turtle Bay but he gave me lessons privately from his own studio. And I felt like a sponge, I couldn't absorb it fast enough! …You know I'm not an aggressive person but I guess if it's something you really want badly enough, I just sucked it up; you know, I just wanted it so much. And it was a wonderful learning experience."

Susan's harmonica education continued with renowned player and harmonica designer Cham-Ber Huang. "Actually he was the next logical person to go to. I was playing his harmonica by then. I had gotten my hands on a CBH 2016; it's a real powerhouse."

Her studies with Huang led her on to the next chapter of her musical story. "After studying with Cham-Ber for about a year, I did compete in Detroit at that international festival in '91 which was a lot of fun. And at that festival I had the real, real good fortune of meeting Charlie Leighton. And I just fell in love with this guy from the minute I met him. You know the harmonica people in general are just the most loveable people, but with Charlie Leighton…. his playing, I think he's the best all around player. But his jazz and his classical playing are just beyond compare. And he's also a recording artist. Then after that I was coached by him too. We still have a friendship and I meet with him usually once a week and some of the guys at his place to jam." And what a jam it is with the likes of William Gallison and Stan Harper dropping around to join in!

Susan has just released her first cd titled, appropriately, 'Angel On A Harp' which she produced herself. But it's been a long time in the making: "To produce it myself took quite a lot of years even before I ever reached the studio. I went back to school. I had a BA in English, and so I went back to school over 10 years ago to kind of revamp my musical education, in orchestration and theory, and even reading! Although I was playing harmonica at 7 years old, I was playing by ear, and it's just taken a long time from the time I started back at the Turtle Bay Music School, and then progressed enough to get into a Julliard accredited evening division classes where I had to be tested. I was the only harmonica player ever that I know of. They were always shocked that I was playing classical music at that time on the harmonica; the only one in Julliard who ever soloed with the Julliard orchestra."

Susan made her t.v. debut with a performance on 'The Donahue Show' accompanied by Harry Connick, Jr., and has been featured on numerous television and radio programs. She has appeared in recital and as a soloist with orchestra, chamber, and jazz ensembles throughout the United States, Europe, and South America.

Susan's association with guitar legend Les Paul paid big dividends during the production of her cd. "…In my head I had a picture, an audio picture of how I wanted that music to be, and I'm really very pleased that I was able to achieve that by getting some of the most world-class terrific guitarists to play on it with me. I have Gene Bertoncini doing a lot of the accompanying on his jazz-classical guitar. At one point he was voted in Brazil their number one jazz player, and he's been Grammy nominated and that type of thing. And then I have, on several of the other tracks, I have two-thirds of the Les Paul Trio; I've got Lou Pallo on guitar, and Paul Nowinsky on bass- a big upright bass. And that happened because of my playing with Les Paul and the Les Paul Trio in New York. I've played with him about 15 times, Les Paul's featured me as his featured guest, you know, at least 15 different nights. He's been so wonderful to me and very, very generous with his mentorship. Les Paul originally started playing the harmonica. He was called 'Rhubarb Red', and he pulled out a T-shirt to show me the last time I was in his dressing room, a picture of him as a young boy with a harmonica in his mouth!"

Susan describes her cd as a "… soft jazz, light classical, soft acoustic, kind of intimate eclectic selection." She demonstrates a strong technical command of her instrument, and has a rich tone very reminiscent of that heard on Robert Bonfiglio's recordings. She demonstrates her capable singing abilities on 2 standards and has included an original composition, 'New Hat Tango', the likes of which gained her admission into the BMI Jazz Composers Workshop. An added bonus for any jazz harmonica enthusiast is the guest appearance of Charlie Leighton swapping solo's with Susan on 'Time After Time'.
Paul Farmer