Thursday, Oct. 19th, afternoon
Finally, on the train for Limousin to spend a few days at the Harmonicales, the first harmonica festival here in France. And not a minute too soon !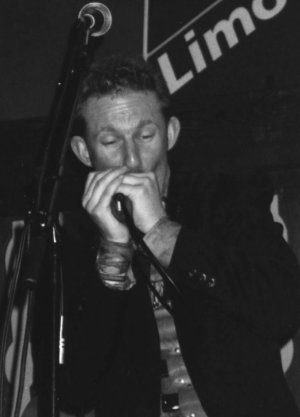 But first a few words to describe the setting for the Harmonicales and identify the organizers. The festival was organized through the joint efforts of the town of Condat-sur-Vienne (not far from Limoges) and the Harpedge association. Harpedge is a musicians' association (voice and harmonica for the most part) presided over by Laurent Cagnon, a noted harp player from the region. Laurent is among the most active in the promotion of the harmonica in France and regularly brings players to Limousin. What's more, Laurent is a gifted, original player—which doesn't hurt.
Sad to say, but Harpedge didn't receive much help in organizing the festival. The city of Limoges not only didn't support the initiative but—intentionally or no—made things difficult for the organizers by scheduling two free concerts by a popular regional band on the evenings set for the festival concerts. Fortunately, the town of Condat was willing to help Harpedge. Hohner France, true to form, wasn't involved in any way—neither financially nor through product offerings. Besides, it's been a matter of public record in France—and for many a year—that there's absolutely no point in asking them for support of any kind … And then, the Limoges club, where some of the concerts were supposed to be held, closed its doors only a few months before the festival, thus forcing the organizers to hurriedly search for another concert hall… In short, Laurent and his friends truly did everything in their power to insure that there would actually be a festival. And I hope they have the success they're anticipating so that there will finally be a harmonica festival in France worthy of the name—one where the goal is the music and not the competition, one that meets the expectations of the majority of players whatever their style of music.
Thursday, Oct. 19th, evening
The very least you can say is that the festival got off to a roaring start! As agreed, I went to the Grand Zanzibar on arriving in Limoges, and met the members of the Mojo Band, who were doing a sound check. Drums, bass, electric and acoustic guitar, amplified and acoustic harp, and vocals were their instruments of choice. I knew them somewhat (though in other combinations) since I often went to see them play in Lille when I was still living there. Xavier Laune is a good friend and an excellent harp player with a clean, restrained style of play—probably one of the best acoustic sounds on the French scene. I'm anxious to see the Mojo Band again: they've changed their mix since the last time that I saw them when they were an acoustic trio (two guitars and harp). A little later I ran into Michel Herblin who wasn't playing until Saturday evening but who had showed up early to practice and take in the festival. We talked a little and agreed to meet the next day for an interview.
A little later Laurent Cagnon and Dominique Robert arrived. They were going to open the evening with a duo that is probably the most original on the blues scene in France: "Ruine Babines et Manivelle"—hurdy-gurdy and harmonica. This evening, they would be accompanied by "Mme Zouzou", Dominique's wife, on Washboard.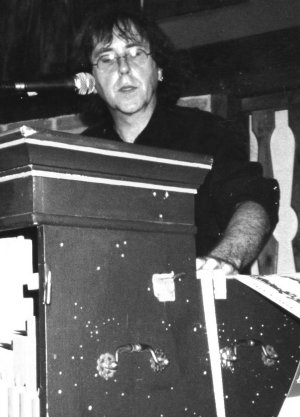 We had a quick bite to eat while the audience was getting settled in. The room wasn't bursting at the seams but there were quite a few people. And, then, our street-wise blues men climbed on stage for the first half of the evening. And if nothing else, the marriage of the hurdy-gurdy and the blues was amazing—truly amazing! Laurent and Dominique have a repertoire that goes beyond the blues, including a certain number of "revisited" covers with an R&B twist, like Sweet Home Chicago and Help Me. But the real appeal of the band, aside from their musical talent and great arrangements, lies in the humor of both the interpretations and the commentaries. I'll never forget the guitarists who go to the Crossroads to learn to play and come back empty-handed (it's just so true!). Laurent and Dominique prove to those willing to listen that it's possible to make a living at music without taking yourself overly seriously and to have a good time while laughing at yourself (if only a little). It's a refreshing change in a milieu like the blues where so many people (performers and critics alike) play while stroking their egos instead of their guitars. In short, the audience had a good time. It worked and it was a truly great start for the evening. And then with the last turn of the handle, "Ruine Babines et Manivelle" surrendered the stage to the Mojo Band.
From the outset, you felt that these four had a groove, an instinctual harmony and took an obvious pleasure in playing together. All four are exceptionally talented musicians, but everyone knows it takes something more than that to make a good band. And the Mojo Band has that "something more": they listen to one another playing, they are confederates, and they work their arrangements out superbly, producing a fresh version of every cover, making it sound like it has never sounded before.
For those who know, the group's sound reminds you a little of the hushed atmosphere on "Muddy Waters Folk Singer", but with more punch when needed. They also venture into a Cajun repertoire, with Julien (the guitarist) playing diatonic accordion.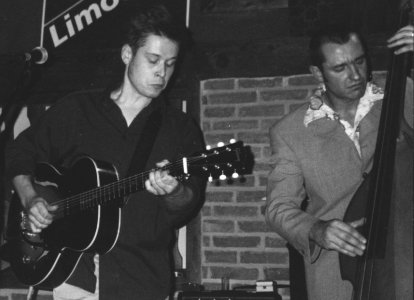 Those who know me will tell you that, when it comes to the blues, I like less and less. There are very few bands in France that find favor in my eyes, whether we're talking about the bands who play slavish word-for-word renditions of covers or those who sing en gloubiboulga or those who play at 200 km/hr or 200 dB (or both). So, I have no fear in saying that the Mojo Band is easily one of the best blues bands in France, if not the best. These guys deserve to be better known.
The Limoges audience, in any case, gave them their just due. Laurent invited the Mojo Band after having asked members of Harpedge to choose the group that had left the biggest impression on them over the last two years. The results of the next census are sure to be the same! The Mojo's got the Zanzibar room cooking. You had to see it! At the break, ten or so people ran up to ask where they could buy the CD, but, unfortunately, there wasn't one. The Mojo Band will probably bring out a 6-title CD by the year's end. We'll keep you posted and put some clips on Planet Harmonica for you to enjoy!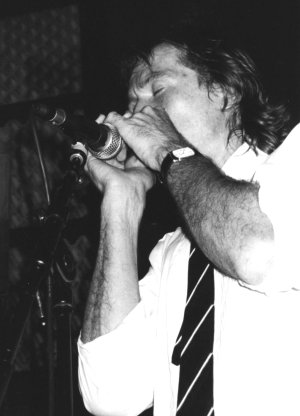 At the end of the concert, the Mojo Band invited Laurent Cagnon, Michel Herblin and yours truly up on stage—first individually and then collectively—and to the great delight of the audience and harmonica players (or such, at least, was the case for the first two artists). So, it was a great evening close to my first day in Limoges.
Friday, Oct. 20th
The day wasn't all rest. First, I only saw a little of Xavier Laune who was giving a harmonica master class with Laurent Cagnon, on folk blues, the specialty of Xavier for whom Sonny Terry remains the undisputed master. So, I took the opportunity to interview Michel Herblin, who was passing through (the interview will appear in the next issue of Planet Harmonica). That afternoon, I made my journal entry, and then showed students at the master class some of the possibilities offered by tunings other than the standard Richter tuning (natural minor, harmonic minor, etc.), which seemed to interest them. Laurent and I also took the occasion to talk (while the students were working) about the possibility of doing a series of mini-seminars over the weekend with several teachers and class levels. We'll think about it and then let you know!
Early evening, I went back to the Grand Zanzibar, where Bruno Kowalczyk and his band were doing their sound check. Bruno plays traditional music, and more particularly, Quebecois music, on harmonica. This evening, he's performing with a piano player/guitarist, a fiddle player and an accordion player. We took advantage of the time used for a sound check by the evening's other band to go do an interview in peace. I was happy, at last, to have the chance to interview Bruno. Even if his music isn't a reflection of what most players are doing today, still he himself represents a musical sphere and style of playing that I feel are important and likely to interest quite a few readers of Planet Harmonica. Bruno has his own way and it's really great to talk someone who has clear-cut ideas without being closed-minded as a result. Later, I cornered Laurent and Dominique for an interview that would probably appear in both Planet Harmonica and a blues webzine called "La Gazette de Greenwood". It was genuinely interesting to see just what difficulties they had to face in terms of both music and image. I was happy to learn that they felt their formula had taken off since the festival in Cognac this summer and that we'd soon see them again at the Blue sur Seine festival in Mantes la Jolie.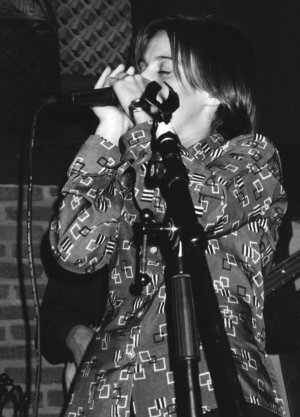 Finally, the evening began with a local band, Open Tuning, led by a young harp player, Céline Rouger, a very promising student of Laurent's. The band suffers somewhat from a mistake common to many young enthusiastic bands: they play too loud, so harmonica and vocals are immediately drowned out in the mix. Still, Céline played several nice solos, with a clean sound and a solid rhythmic foundation. She, no doubt, some progress to make in the area of melodic playing, and has a tendency to fall back on traditional riffs, but she still has time to advance. In a few years, who knows, we might have our own French version of Annie Raines!
After the break, Bruno Kowalczyk's band climbed on stage for a calmer, quieter set: a mix of dance numbers and more melancholy pieces. Bruno and his musicians are all excellent, with honors going to Olivier Chéres, the fiddle player. Not content with being an excellent musician, he's also a singer. He made a big hit with the story of a man condemned to death who has to redeem himself by playing an out-of-tune violin. The audience responded rather well to the music, which was largely unfamiliar to them. Sure, we were in a bar, and the background noise was somewhat distracting during the melancholy pieces; but during the jigs, people danced—which was a pleasure to see.
Bruno himself plays a variety of tremolo harmonicas of varying sizes for accordion-style melodies and for Quebecois pieces, in particular. He plays a chromatic with a reverse slide (i.e., pushing in on the slide lowers the note a half-tone instead of raising it). He has a really nice tone, which stands out on the slow pieces, and he can play with speed and panache on the dance numbers.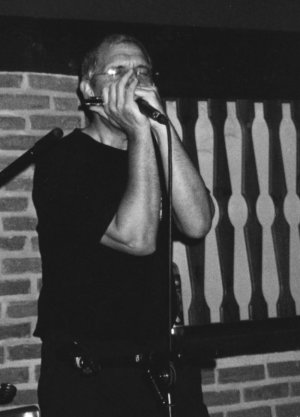 I'm really happy that I had this chance to see Bruno in concert. I'm not a big fan of Celtic music (in its wider sense) on CD, but I like it lot in concert. The nearness of the performers, the setting and the audience, all bring a particular magic to this traditional music. Bruno is a truly exceptional musician (even if he denies it) and handles the band superbly. He's really worth hearing.
Saturday, Oct. 21st
The day was going to be a full one, but fortunately we were able sleep in this morning. Staying up past 2 a.m. every evening wasn't something I did any more … Around noon, we went to Condat where the festival's city parade would take place a little later. Children from the school, the Condat chorus and members of Harpedge would march together through the city streets, playing pieces at each stop. It might seem a little silly to those who weren't there, but it was actually very nice. First, because it didn't rain, which would have spoiled festivities somewhat; and, then, because it was our first opportunity to share our taste for music and the harmonica with the people of Condat, to provide a somewhat festive character to the event, and, in general, to get the area people involved in the festival. And it was a real pleasure to hear the kids shout for songs or train imitations (a great success!) Our only regret was not being able to give a harmonica to each of the kids, as we didn't have the financial means and/or a sponsor…
A snack awaited the children at the local "cultural center" in Condat, the Confluences. Afterwards, the performers (and the reporters who were very kindly invited!) went to a corner bistro to have something to eat and to talk with the organizers. It was on this occasion that Christophe Gibaud (a radio journalist from Limoges, who hosts a blues show on Beaub'FM) and I succeeded in interviewing Vincent Bucher, relaxed and visibly happy to be here. I also took the occasion to talk a little about Madagascar with Tao (I went there last summer) and to ask him about the malgaches instruments that he plays (I brought back a few examples to decorate my living room with and to plunk on—it's the best I can do!!!).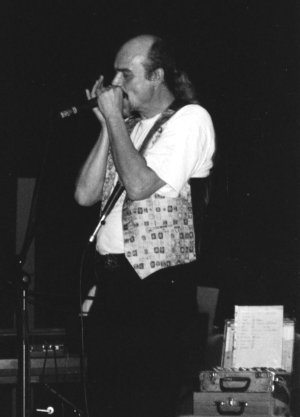 We then went back to Confluences where the audience was getting seated for the last evening of the festival. The show was opened by Michel Herblin in a trio, accompanied by a guitarist and a pianist. Ten years after the release of his album, Matin aux Pommes, Michel remains just as amazing as always, with a collection of "personal compositions," as he laughingly calls them, and a particular sound that sets him apart from everyone else. Some have said that Howard plays the harmonica with the sound of a violin, but as much as that has never struck me to be the case for Howard, it seems just that obviously so in Michels' case. The tone, of course, lends itself perfectly to his compositions—often very romantic. Now and then, more rhythmic (and often rather funky) instrumentals revived the audience who didn't deny themselves a good thing, keeping the beat with their hands. My only complaint was that Michel's pianist, while good, has a tendency to over do it and that lapse of sobriety mars the bands cohesiveness. His vocal improvisations didn't always work, and his sense of humor left a little to be desired … But these are minor complaints. For the harmonica players in the room, it was a joy to see Michel on stage and to hear this almost magical harmonica-playing that has imitators as far away as the U.S. The concert ended with a few songs from the guitarist who accompanies Michel, in an engaged, humorous vein, which was altogether pleasant and which delighted the audience.
After a short pause, during which Michel was able to sign a few CD's, the audience returned to the hall and the Tao Ravao trio (voice, guitars and other strange instruments). Vincent Bucher (vocals, harp) and Karim Touré (percussion) entered the stage to thunderous applause.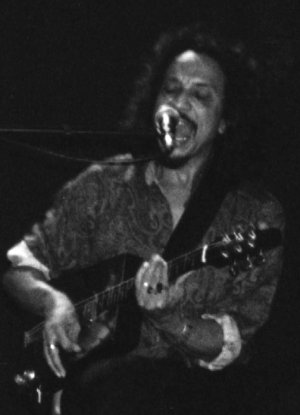 The harmonica players who were present knew that they were in for some head-cutting, and it something else! The particular groove of the trio's compositions (or covers) had the audience shimmying with the very first numbers. Tao was juggling between the Valiha, the traditional Kabosy, a custom-made Steel model Kabosy, the steel guitar and a strange instrument whose name I missed. For the most part, Karim played rhythmic accompaniment on a wooden box that he was sitting on, with an utterly amazing variety of sounds.
Vincent, for his part, shines as much by his harmonica solos and accompaniment as by his singing. I hadn't been particularly impressed by his singing on the albums, but here, live, his rather deep voice, with a low vibrato contrasts well with the musical accompaniment and is even sometimes reminiscent of Elvis-style American crooners! On the harmonica, Vincent displayed an extraordinary musical virtuosity. After having listened to his CD's, I expected to see him juggling between harmonicas, tunings, and so forth, but was stunned to see that that he achieved that variety of sounds with a very limited selection of standard diatonics. His solos were often very long but highly varied in style and intensity—so much so that no one was ever bored.
Around the middle of the concert, the audience began dancing, with everyone gathered in front of the stage by the end of the concert. They brought back Tao, Vincent and Karim for three "encore" dance numbers. They ended with a run-on version of "Hé là-bas !", a Lousiana piece from the early 20th century whose name served as the title for their last CD. And speaking of CD's, people were scrambling for them as they left the concert, but there simply wasn't enough for everyone!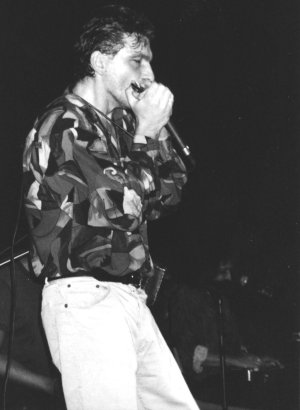 For the closing of this magnificent evening, festival organizers and all those who so desired met in Condat's old reception hall for an acoustic jam that lasted through the night. Surely, everyone who gave his or her all to organize this brilliant festival earned the right to unwind a little!
Sunday, Oct. 22nd
And so, the first annual Harmonicales festival is over and the time to report on the results is at hand. From the organizational standpoint, I left Limoges impressed with the way everything had unfolded. Despite the inevitable surprises, all the organizers remained calm and motivated, and the occasional wrong note that was struck wasn't ever really noticed either by the performers or the audience. For a first time effort, it was altogether impressive! From the artistic stand point, an undisputed success. Laurent's program emphasized the music rather than the instrumentalists. It managed to blend genres in such a way as to cover a wide range of musical styles and instrumental approaches. And, finally, Laurent made sure to involve regional bands. While they don't yet have the talent or celebrity of the national bands who were present, they did allow the region to establish credibility in the organization of the festival and to involve area people—two indispensable items in the continuation of the festival and its friendly atmosphere.
From the financial standpoint, it's a little more complicated. About 300 people were needed on the last evening to insure that Harpedge wouldn't lose money, and there were fewer than that. The reasons for the commercial failure were many, but the decision by Limoges to schedule a free concert by the "Ejectés" on that same evening no doubt played a role. Maybe Harpedge should consider a slightly more commercial approach and look for other sources of revenue. There were T-shirts, but there might have been harmonicas, for example, or CD's. Of course, all of that would have required a substantial investment, which Harpedge probably didn't have… Fortunately, these financial problems won't in themselves prevent the second annual Harpedge festival from taking place.
Once again, it's truly sad that the harmonica industry—and Hohner above all—refuse to get involved in these events, which might bring the harmonica a new audience and, by extension, new customers to the instrument makers. I'm sure that the economic equation isn't that very complicated and, by exercising a little common sense, the manufacturers would realize this kind of on-the-spot communication is more effective than the ads placed in a few magazines. Finally, while this isn't the time and place to try Hohner, it is once again unfortunate that those who were trying to shake up the harmonica world were handicapped by the absence of involvement on the part of those who earn money from the instrument…
So, in conclusion, I think we need to applaud the volunteers involved in this event: Laurent Cagnon, of course, but also Laurence Mocaer, Nathalie Cagnon, Sylvie Brunato, Jean Luc Valade, Sabine Laguionie, Ludovic Charpentier, Philippe Antoinet, Françoise Célérier, Jean Faucher, Didier Leveque, Dominique Robert, Jean Paul Voise, Jean Pierre Connin, Olivier Guisset, Georges Dormiola, François Ocard, Fabienne Isnard and Frédérique Avril!
As for me, I hope I have the chance to see them all again at the second annual Harmonicales in 2001!