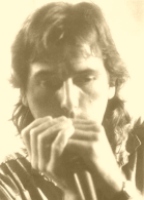 Xavier Laune is a diatonic player based in the North of France. I discovered him through the frequent gigs he plays in this area, and he certainly stands out as one of the best players around. He played for quite a few years with Double Dose, a Belgian/French electric blues band, but left them a few years back. Since then he's been working in two main musical fields : acoustic blues and celtic music.

Xavier's main gig is with an acoustic blues band called 'The Mojo Band'. The Mojo Band used to be two guitar players and a harp player (Xavier of course) with occasional instrument switches (guitar-mandolin-harp or guitar-diatonic accordion-harp), and their repertoire is a mix of blues, country and cajun. They are currently undergoing a change in personnel and will probably end up as a four piece (guitar, harp, acoustic bass and drums) but keep the acoustic spirit. The Mojo Band is a very accomplished band that would very much deserve a wider success. I hope they cut an album soon, and Xavier told me that they planned to do it.

Xavier's other band is 'Distant Shores', a group of musicians specialised in Celtic stuff. The core group is harp-guitar- banjo, but they usually bring in guests for their concerts on flute violin or any other instrument that fits well.

Xavier's main influences are Sonny Terry and Sonny Boy Williamson 2, and he plays in a very precise style. He has a mean vibrato that he puts to good use without doing too much. Generally I'd say that he's one of the best acoustic players I've heard. Which doesn't mean he avoids playing amplified, which he certainly does with skill as well.
---