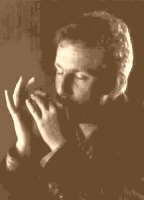 Laurent Cagnon is a diatonic player based in Limoges in the center of France who seems to focus most of the harp activity of that area in the 'Marine Band Club' that he runs there. His main gig currently is playing harp with the R&B band 'Grand Canyon', but he does other things besides. One of his most interesting experiments is the duo 'Ruine-Babines & Manivelle' in which he plays alongside Dominique Robert, a street organ player.

Laurent is a fast player with strong vibrato who is very good both as part of a rythmic background and as a soloist. His playing is fairly varied and not too constrained by 'traditional' blues harp archetypes.

If you want to contact Laurent you can go to his website where you will find his phone number. As far as I know, Laurent doesn't have any albums per se out yet. I've heard the demo CD of 'Grand Canyon' (what little I've heard is reviewed below) and am very curious to hear what 'Ruine-Babines & Manivelle' sounds like. This should happen soon and I'll update this page as and when.
---
Grand Canyon
Laurent's band is strongly anchored in the soul and R&B tradition, an aspect that's emphasized by the female singer and the texture of her voice. That being said, beyond soul standards like 'Mustang Sally' the band does tread in blues territory here and there and they certainly know their way around. I've had a chance to hear their rendition of 'Trouble in Mind' and it's very powerful (and rocking, surprisingly enough). The only (mild) criticism I have is a slightly excessive French accent in the vocals. Apart from that Grand Canyon is a strong band, and I hope they cut an album with their compositions soon.
---
Ruine-Babines et Manivelle
This duo is an unusual experiment since it features a street organ player and a harmonica player. I'll warn you now : this music is for the open-minded ! The association sounds so much counter to nature that the ear needs time to get used to the sound. That being said, the approach is amusing and musical, although I feel that the studio setting doesn't do RB&M's repertoire justice. Played 'live' in the street, this stuff must really rock ! The demo includes 5 short pieces :one bluesnumber, one jazz and three French pop classics. Anyway, listening to this stuff is fun even though the recording suffers from excessive organ bass that parasite the rest of the mix. The vocals (Dominique's I presume) are not much to my taste either on the French pop stuff. That being said if you're not musically faint-hearted, Ruine-Babines et Manivelle deserves a try and if you see them in the street I might be there too !