| | |
| --- | --- |
| | Adam Gussow Discography |
Adam only has three record releases, the three he did with Mr Satan. Let's hope he releases some more stuff, because the quality of these three cannot be ignored...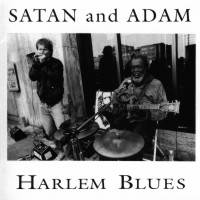 Harlem Blues
This album is so raw that it's impossible to ignore the street origin of the Satan & Adam duo. They got inside a recording studio, balanced the levels (more or less) and let the tape roll. With all the imperfections that it implies, but these imperfections make the sound as well. You can also very clearly hear why the duo was so popular in Harlem in Central Park. Litening to this album I really wish I'd seen Satan & Adam live...
The album starts on a rocker, 'I want you', Mr Satan's percussions, on full blast, his raucous soulful voice loud and strong. Something in this piece makes it nearly impossible not to react to its beat... Thankfully the whole album isn't so driven, there is respite ! The duo alternates between more groovy and soulful pieces and solid moving rockers.
All the elements that make Satan & Adam's sound their own are there : Mr Satan's tremolo guitar and ringing high hats, his voice, his joy of singing that shines through, and of course the harmonica of 'Mr Gussow'… Their musical identity comes partly from the very specific and unusual role that Adam plays. He's not just a solo player, the harp participates in the rythm, but not always in the classic chord chugging or riff laying way : Adam weaves a tapestry of fast flying notes behind and around the vocals of Mr Satan, bringing a distinct jazzy feel that permeates the whole sound.Le son global d'ailleurs provient de ce rôle très particulier que joue Adam dans l'instrumentation. Il n'est pas seulement soliste, l'harmonica participe à la rythmique, mais pas de la manière habituelle qu'on pourrait imaginer : ce ne sont pas des accords, mais une nappe qui se tisse derrière la guitare, des notes rapides qui tournent autour du chant, bref, une touche jazzy qui entoure en permanance l'ensemble.
Harlem Blues packs a mean energy, no doubt about it. It's street blues, drowned in outside influences of soul, jazz and funk. And a very joyous and fulfilling blues it is...
---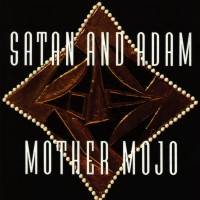 Mother Mojo
From the very start of this second album, there an apparent exploration of sound that wes not obvious in the first release. The heart of the duo is still there though : there's a joy of playing together, ever present even when Mr Satan takes on the sadder songs.
Very clearly the jazzy influences in Adam's playing are coming to fruition here. Some tracks, while keeping their overall bluesy sound are nonetheless veering towards this mysterious territory : such is the cover of Watermelon Man.
The album starts roughly in the same way Harlem Blues did : with a rocker, something that makes you tap your feet. The 'Mother Mojo' that gives its title to the album is indeed just that : a funky rythm, a merciless beat. A few slower pieces follow, including the superb 'Ain't nobody better than nobody', the closest thing to a ballad you're gonna here on the record, even if the rythm does get excited at times.
Maybe more so than in the Harlem Blues, Mr Satan's preacher side is apparent here. He shouts at the listener so convincingly that you'd swear Mother Mojo had been recorded on the side of the street. This is particularly true of 'Freedom for my People' where he says 'We've been waiting / Hoping and Praying / Something must have gone wrong / It's taking way too long'. This is reminds us of the most gripping episodes in Adam's autobiography when he insists on going to play in Harlem with Mr Satan in the middle of the racial riots...
This second album moves a little further away from the primeval energy that made Harlem Blues so special, but it's traded off for a certain profoundness allies to a light jazzy touch. No loss there !
---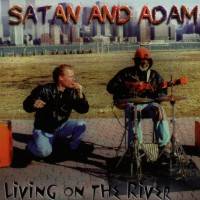 Living on the River
The jazzy vein that appeared in Mother Mojo is confirmed in this third album, particularly through Adam's harmonica playing and more subtle instrumentations. There's even a horn section on 'Proud Mary'. From a sound point of view there is an evident evolution from 'Harlem Blues' to 'Living on the River'. There is more space here. Mr Satan uses his percussions with more subtlety, sometimes even invites other percussionists to join the duo.
This slightly more refined sound is especially evident on the (much reworked) cover of the traditional 'Stagga Lee' or on the sad tale 'Ode to Billy Joe' where Mr Satan tells more than he sings the story of a young boy who commits suicide in the indifference of all except the storyteller.
Adam's harmonica sound finds more space to shine, more ways to evolve in Living on the River. His long and fast phrases that sound very unusual for blues harp are firmly rooted in the relative silence that can be found here and find their natural territory.
As a whole this album is more introspective than the previous two, a little more melancholy even if several songs are here to remind us that Satan & Adam still pack a good punch. But it seems very clear that they have reached a certain maturity in sound, in arrangements and in lyrics. It is my favorite of the three, even though I still love listening to the other two.