Crooked Philosophy by Bill Barrett and Marcus Watkins.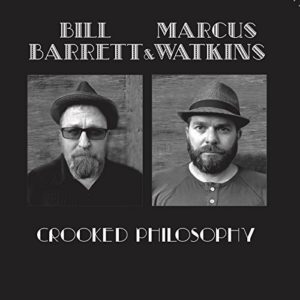 I always had this cultural exceptionalism thing that Gypsy Jazz didn't sound as good played by Americans. And then I heard John Jorgensen. And then I heard this record. Not only does it swing like nobody's business, it's got the grit and imperfections that make Manouche the seat of the pants music that I love. A truly magnificent record, graced with the best singing Bill's ever done (that I heard of). Truly worth your while. 
Ben Felten
Olivier Ker Ourio feat. Sylvain Luc – French Songs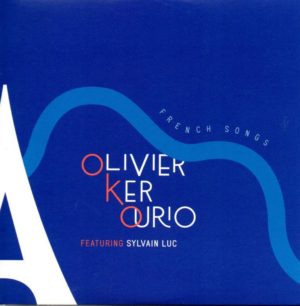 I used to make a clear difference between Olivier Ker Ourio's Island records (Oté l'Ancêtre!, Sominnkér, Overseas, L'Orkes Peï) which I love to bits and the rest which I like but doesn't really blow me away. In many ways (and somewhat surprisingly considering the material here) with French Songs it feels like Olivier has finally blended the two shcizophrenic musicians in himself. French Songs is a collection of covers of (mostly) famous songs from the Chanson Française repertoire and yet it feels Island-y as all hell. Cuban drummer Lukmil Perez contributes a lot to that tropical feel, and Olivier and Sylvain's fantastically melodic playing brings up a gorgeous edifice on top of these syncopated foundations. In one word, superb!
Ben Felten
Gadji-Gadjo: Regards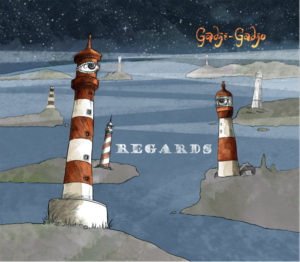 The very first sensation that comes to mind when listening to this album is a melancholic and joyful energizing feeling, driven by a kind of Balkan brass band (accordion, violin, harmonica, guitar, percussion, double bass, tuba, trombone). But the profuse style of this virtuosos' band is way wider than this first feeling. Numerous musical atmospheres take turn, sometimes within the same track : sometimes it sounds like Têtes Raides, sometimes like klezmer then gipsy, and even occasionally jazz when an upright bass line breaks the rhythmics.
Benjamin Tremblay's harmonica perfectly fuses in the music. Alternating back and lead playing or in unison with the violin. He's always relevant and often twirling.
Let's go and get this album right away !
Laurent Vigouroux
***
The Marshals: Les Courriers Sessions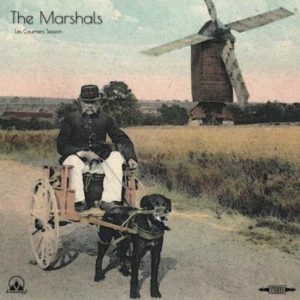 Urban outlaws, desperados of the prairie, cow-boys from Arizona or Montana gold panners, go back home right away to cook you chili, and unplug your ears : the Marshals are back in town, with their new album : Les Courriers Session.
The Marshals ? A rock trio, that released their previous opus some years ago, AYMF Session, sounding like a mix of Hendrix/Zeppelin/Vaughan/Buckley, and featuring Laurent Siguret on harmonica.
We find all the well-known ingredients of this Auvergne band in this album : Rock, Blues, Folk, a captivating voice, saturated guitar and harmonica, which fills the music without submerging it, and a very effective drum behind to nail the whole stuff. Job done ! Many various influences for a very personal music, indeed.
Playing in a trio requires a subtile balance in order to leave enough room for the soloist without interfering with the consistency of the pieces. Laurent Siguret actually found the right balance, and his tasty phrasing mixes both modern and ultra roots licks in a very effective way.
When it comes to compositions, the writing is ethereal, maybe more than it used to be on the previous album. The band goes back to the origins : a few chords, some significant gimmicks, simple and captivating melodies, a saturated but balanced sound, a pure, expressive and melancholic energizing rock.
Everything goes slowly in a rough space, the storm is over but it is still thundering. Come on, let's drink some rough doctored whisky, and shepherd the cows back to the paddock before going home to cook red beans for dinner. The Marshals are back, and that's great.
Check this out, and go see the Marshals playing live  !
Jérôme Peyrelevade
***
David Herzhaft: Pacific Lounge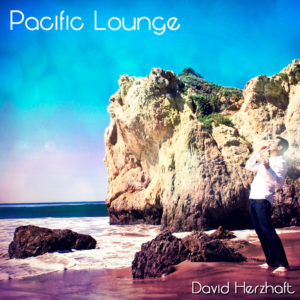 David Herzaft is one of the first harmonica players who made the diatonic boundaries take a move forward. He has been promoting the chromatic playing on diatonic harp for more than 20 years, through his albums, courses and textbooks. His previous album, « Jazzin' Around », as its name suggests, was a jazzy one, featuring covers of several standards, including a very original and nice Summertime.
Pacific Lounge is now approaching an electro…lounge sound.
This album features twelve original and varied nice compositions.
The diatonic harp acoustic sound merges very well with the electronic rhythmics.
We will remember the creative solos more than the melodies.
This interesting album features diatonic harmonica in an unusual register.
***
Raphaël Herlem Quintet – Kaïros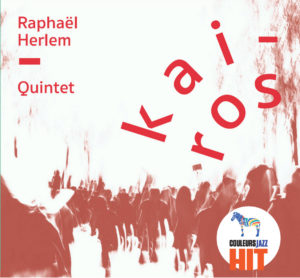 A couple of years ago, I saw Tao Ravao and Vincent Bucher live in concert in Paris. During the second set, Vincent let the mic to harmonica player Thomas Laurent. With his very different style, Thomas really pleased a friend of mine who was attending the gig with me. The day after, right away, the guy grabbed a Raphaël Harlem Quintet CD featuring Thomas on harp : a very good and promising jazz funk.
So, as soon as Kaïros (the last album of the Quintet) was released, I bought it through Bandcamp for a few euros. Great deal ! Kaïros is far more achieved and mature than their first eponymous EP.  In particular, the rhythm section is really a blast, and bass player Carel Cleril sometimes plays phrases that could be Jaco's.
Raphaël Herlem's compositions are absolutely modern, surrounded by a mostly wild groove (with the exception of « Alice », a quiet ballad). Pieces are long enough to leave room for improvisation, without getting tiring. One may argue this record is not musically original, but I think the composer's ambition was not to start a music revolution with his true first album, only to show an honest and effective work.
The mix sax/chromatic harp which is at the heart of this project works very well. The tone of these two instruments sounds really good. This is particularly true when Herlem leaves his alto sax to play his baritone (notably on « Catalyst ») and deals really well with both tone and key differences.
I remember Thomas used to be a promising harmonica player, mostly playing gipsy style. He is now very comfortable playing a post bop funk, with long wild phrases, challenging harmony very easily. This is pleasing to hear, and, in the end, not that usual when it comes to harmonica.
To make it short, Kaïros is a very good jazz album, that you shouldn't listen to only because it features a harmonica player but also because it's excellent stuff, smart and stimulating music including frequent phrases of a fat and loud baritone.
Benoit Felten
***
Sébastien Charlier: Precious Time 2.0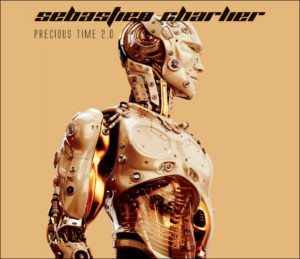 Warning signs told us how blasting this album would be. First of all, the previous one, of course. With Precious Time 1, Sebastien Charlier reshuffled the cards by demonstrating the total chromaticity of his diatonic harmonica and, above all, by releasing a jazz fusion album featuring ear-catching tracks and outstanding musicality.
I also remember Master Sebastien Charlier smirking and smiling when he talked about this new album at the Diato Jazz seminar in Grasse.
Knowing how demanding is Sebastien when it comes to harmonica, no doubt Precious Time 2.0 was about to be a major album.
So…yahoo !!
This is musically fantastic and technically incredible. These ear-catching tracks show a perfect mix of groove, harmonic complexity, unexpected instrumental flights and melodies that you can even whistle.
It is difficult to highlight a specific piece, however, I have to say "Hijacked" is a very nice and clever reinterpretation of "Spain". And we all remember "Spain" was actually the piece Sebastien highlighted about twenty years ago to demonstrate that any jazz theme could be played on a diatonic harmonica. So the circle is now complete and we can say diatonic harp has become a true jazz avant-garde instrument.
To quote Jérôme Peyrelevade (whose Sebastien made a cover on track 17), there is a 'before' and 'after' Sebastien Charlier, and a before and after Precious Time.
Laurent Vigouroux
***
Jérôme Peyrelevade : Somewhere On The Edge Of Time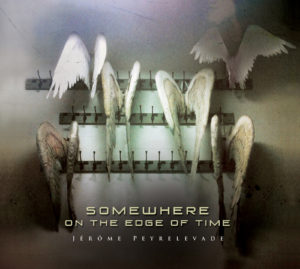 First of all, I have to point out I'm actually talking about THE Jérôme, who writes for Planet Harmonica, teaching section. I wavered before writing this review since Jérôme is a major contributor to the magazine. I finally did it, for two main reasons :
– I had made my personal opinion about this album way before we started to work together (you can find what I wrote about it on the diato forum website for instance).
– I think this album is a major one in the harmonica world and therefore it is absolutely relevant to review it in PH.
That being said, let's move to the key thing. The music !
From the very first listening, we clearly ear this is a rich, very rich album from a musical standpoint. Jérôme is a virtuoso, whose playing is both sophisticated and extremely melodic. The ear-catching melodies are so perfect that they get into your brain right away. I have even heard my 12 year-old son (who, by the way, is not a musician) humming some tunes !
Some solos, rhythmics and harmonic patterns are very original and quite demanding. One may need several listenings before feeling comfortable. Many tasty "out playing", rubbing just as needed. Extremely elaborated rhythmics may seem a bit disconcerting sometimes.
Although this is a first album, I have to say Somewhere On The Edge Of Time (what a perfect title !) is a totally achieved album. Each track has its own unique atmosphere, but the whole keeps still very consistent. Jérôme also owes this brilliant result to his musicians, all jazz big names. In an interview I published in the very first issue of Planet Harmonica (…back in 1998 !), Jean-Jacques Milteau said that the surrounding area of the harmonica was very important to him, so he paid a specific attention to the quality of the musicians he hired. Jérôme clearly followed this example by leaving enough room to his musicians.
Hats off to Rémi Toulon for his intro on Someday Is A Lonely Day, a very nice melody with a very touching finale. Even if Jérôme and Sébastien Charlier are clearly on the same page when it comes to harmonic/rhythmics features and the out-of-the-box diatonic harp thinking and playing, Jérôme leads his own way and always takes us on a very personal journey.
Jérôme mostly plays "clear", but he also tries out different sounds, like in Nabish Moy, an original pastiche of the more than famous Manish Boy riff, that sounds like a totally modern blues-jazz-rock track.
So, to make it short : this album is a true jewel for those who want to open up their mind to melodic and sophisticated instrumental pieces.
It's worth mentioning a compilation of all tracks harmonica tabs is available (for both melodies and solos).
Laurent Vigouroux